A Brief History Of Drakensberg Mountain Retreat
Posted on Tue October 31, 2017.
When Dave was about 50 years of age, he bought the farm known as "Vergezient" (the name dates back to the days of the "Voortrekkers" evident by the number of Historical sites and monuments in the nearby vicinity dedicated to these brave pioneers.)
The farm was situated in the Northern Drakensberg area. Prior to this, Dave had speculated with cattle farming and had leased some grazing land for this purpose. However, when the lease was nearing the end of its term, he decided to acquire his own farm for this purpose. He had always wanted to own a farm as he and his siblings – sister's Dorothy (Dolly) and Rosemarie and brother Charlie – had spent many happy holidays with relatives in the Bergville area. His paternal grandparents had also farmed in this part of KwaZulu-Natal which was another reason for wishing to acquire his own farm in this beautiful part of South Africa.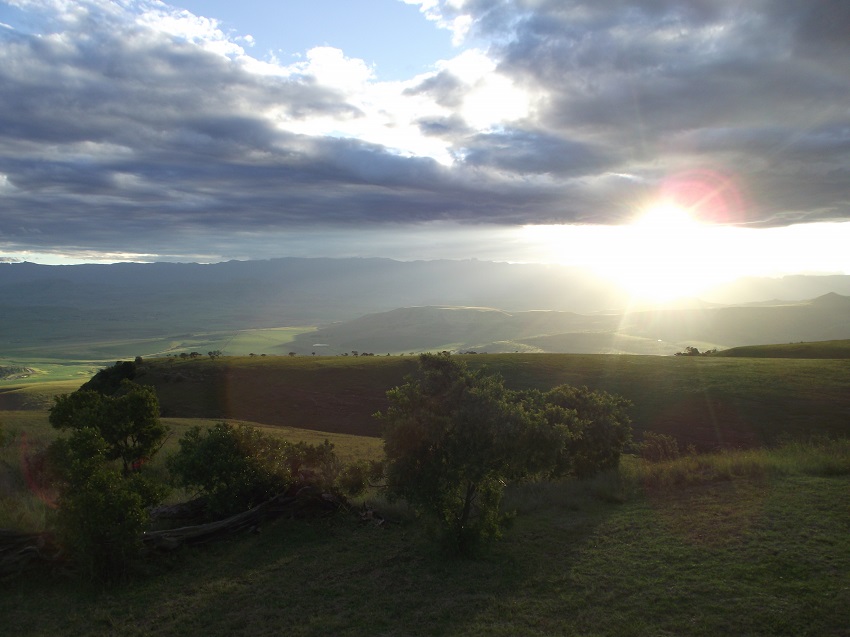 When Dave was originally shown the property by the selling agent, he realised it was not ideal for cattle farming as it was covered in Wattle Trees with no buildings or other facilities provided. However, it was only when he and the agent walked to the end of the plateau from where incredibly beautiful views of a vast section of the Drakensberg are to be seen, that he decided to buy the farm even though it would be difficult to manage grazing on the top ridge and further grazing down below, which was difficult to get to.
He started developing the property by building 4 sheds as cattle holding facilities. One of these sheds was used partly for accommodation and storage of feed and was frequently used by Dave, his family and friends over weekends and holidays.
As Dave resided in Pretoria, from where he ran a business as a professional Engineering Geologist, he employed a farm manager to take care of the cattle and sell Wattle wood on his behalf. Unfortunately, as the Afrikaans saying goes – Ver van jou goed, na aan jou skade – the cattle never increased in number and the sale of wood brought in very little.
Some years later, Dave decided to re-design one of the sheds to provide accommodation for hikers. During this time he employed a professional person who had experience in hiking trails to assist in setting up formal hiking trails on the farm. The decision to do so proved to be right as well as very useful. Formal hiking trails are meant to vary in scenery thereby always providing something different for the hikers to see. The result achieved exactly that, with scenery altering from open spaces, to valleys and through bush with many ups and downs; as well as varied degrees of difficulty. However, it proved to be an enormous task due to the extensive and, at times, dangerous cliff edges.
Dave named the newly renovated shed "The Barnhouse". Perhaps he over-estimated the accommodation needs of serious hikers as "The Barnhouse" was almost too sophisticated for such hikers who do not wish to pay too much for accommodation.
Round about this time, Dave happened to meet Andrew Attwood, the owner of a business known as "The Antbear" near Giant's Castle and they got chatting about the B&B which Andrew ran there very successfully. Inspired by this discussion, Dave (who was always gifted with wonderful ideas!) decided to change the second shed into a Lodge and set out to build the Lodge without any plans whatsoever.
From a practical point of view, this meant regular trips to the farm from Pretoria in his trusty old Merc or one of his sturdy trucks or bakkies with his loyal and beloved staffie Baloo constantly at his side; checking on the work; positioning out where or what the builders needed to do; driving back home following this before returning to the farm, sometimes just a few days later to check on progress. As the farm is "off the beaten track," logistics proved to be a nightmare. For example, building materials and the likes had to be transported either from Harrismith (the nearest large town) or from Pretoria with the last part of the journey ending with a 12-Kilometre stretch of narrow, gravel district road which, at times, proved to be rather a challenge to say the least.
This building period was also a difficult and extremely challenging time for the builders who, having undertaken certain work as agreed upon would, on the occasion of Dave's next visit, be instructed to alter something, such as a door or window that needed to be moved to another position. The most important thing, however, is that, in the end, it turned out to be very beautiful, with just the right ambience for a Lodge in an area of historical importance. It has the feel of a Colonial building, especially furnished with some beautiful antiques, but steeped in history with Retief's Pass and Retief cliff nearby.
For some time Dave's nephew, Judson, assisted with the building of the Lodge, as did his brother-in-law, Len Warburton (Jud's father), making it quite a family affair.
Having completed the Lodge, which he called "Vergezient" due to the extensive views, he set about altering and improving the Barnhouse into accommodation suitable for Retreat groups as well as being a gathering place for family and friends.
Of course, given that Dave resided and ran a business in Pretoria, it was necessary for him to put staff in place to run the establishment consisting of the Lodge and the Barnhouse which, in itself, provided quite a challenge because of the distance separating them. The use, and convenience, of modern technology proved essential at this time.
Dave was one of those people whose plans never ceased – no sooner was something completed, he was ready to alter or extend it. Sadly he passed away in January 2014, aged 65, after a long and brave fight against cancer. Apart from Management changes in the running of the Lodge and Barnhouse, no further changes to the buildings have been made apart from general on-going maintenance being performed.
Dave's family decided that his final resting place, together with that of his beloved Baloo, would be on his beloved farm so they scattered their ashes from the summit of Heldersig, one of the trails incorporating the highest point of the farm from where a 360° view of the Drakensberg and valleys below and the red sandstone koppies of the Free State too can be seen. Quite beautiful.