Your Hiking Checklist for the Drakensberg…
Posted on Tue September 5, 2017.
Are you and your family planning a trip to the Drakensberg? Hiking is one of the most popular activities available for people staying in the Drakensberg and is a definite must do activity if you are visiting the Drakensberg Mountain Retreat. We offer a range of adventures for you to choose from. Take an arduous hike or stroll through the hills observing the unforgettable views and beautiful surroundings. The trails at Drakensberg Mountain Retreat are well marked and cater for all abilities. Trail maps are available at the reception and we can always suggest a hike/walk based on the ability of you and your group. Should you wish to hike in the uKhahlamba-Drakensberg Park, declared a World Heritage Site in 2000 on account of its outstanding natural beauty and cultural significance, our team can assist in making bookings.
Feeling apprehensive about what to pack when hiking? We have compiled a list for you so that figuring out what to pack becomes something you no longer need to worry about.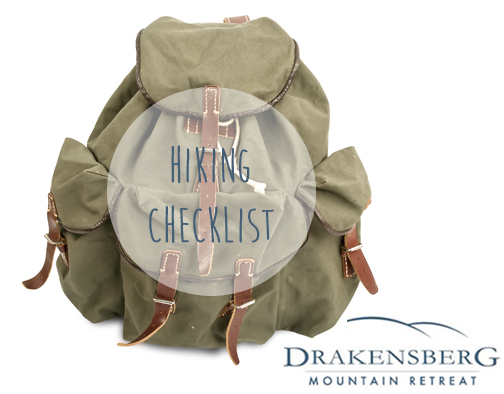 Hiking checklist:
Safety always comes first, you will need to pack a map of the area and possibly a compass and GPS
A small first aid kit can come in handy for small cuts, thorns or headaches that may be experienced whilst on your hike.
Sunglasses, a hat and sunscreen are a must in the hot African sun, you don't want to burn and risk ruining the rest of your holiday because you are suffering from heatstroke and sunburn.
Depending on the time of day you choose to take your hike, you will possibly need to pack a headlamp or torch to be able to see where you are going, when the natural light fades.
A water bottle is essential to pack so that you stay hydrated and are able to quench your thirst while walking through the Drakensberg mountains.
Hiking boots. Although this one may seem like an obvious one, many people choose to pack flip flops when packing for a relaxing holiday away and then forget to think about safe closed shoes for activities such as walking or hiking, so don't forget yours!
A rain proof jacket. Having something rainproof is always a good idea but remember to get dressed in layers, be prepared for the sun and getting warm from the hike too.
Socks and tick tubes (if you have). A nice pair of thick hiking socks will help prevent you getting blisters from walking and tick tubes, whilst not an essential, will ensure that you do not collect ticks on your hike with us.
Binoculars. If you are an avid bird watcher you will have plenty of time to look through those lenses at the infinite variety of birds that call the Drakensberg Mountain their home.
A camera or camera phone. If you are a photo or social media junkie, you will want to capture your hiking moments and views to share with your friends and family.
Insect repellent is a good idea too, this will protect you from the pesky mosquitos and repel away any other bug that might consider biting you.
And finally, a light snack in case you or one of your kids gets hungry. Try to keep the snack light on your stomach to avoid developing a stitch/cramp and light on your already jam-packed bag to avoid your luggage becoming unpleasantly heavy to carry on your hike.
 If you are interested in taking a hike through the majestic Drakensberg Mountains, contact the Drakensberg Mountain Retreat today. You can book your stay with us today too.