Hiking The Drakensberg For All Levels
Posted on Wed November 21, 2018.
On a scale of 1 to 10, you don't get any better when it comes to Hiking, than the Drakensberg Mountains. A 200km Mountain Range that covers 3 provinces from the Eastern Cap through to Mpumalanga and KwaZulu-Natal. We are fortunate enough to experience the largest portion of the Drakensberg Mountain Range here and KwaZulu-Natal and we cannot stress how privileged we are to have that opportunity.
Home to snow-capped peaks during the winter months, majestic waterfalls, historical rock art and magnificent forests, tourists and South Africans alike are utterly spoiled with unyielding beauty and the opportunity to explore all of these simply by making use of the hiking trails created for this exact reason. Apart from that, the Drakensberg Mountain Range boasts an incredible wealth when it comes to biodiversity. Home to an estimated 290 Bird species, 48 species of animals and some incredibly rare varieties when it comes to plants, the Drakensberg Mountain Range is one that should be explored with wide-open eyes, ears, hearts and minds and what better way to do so than Hiking through the picturesque Mountain Range.
Here at Drakensberg Mountain retreat, we have, over the years, established some amazing trails for guests to make use of whether, hiking, running or mountain biking and we are proud of the experience that these trails offer our guests. From incredible views of the surrounding mountains; picturesque sunsets and sunrises; beautiful landscapes that are perfect for photo opportunities, magnificent wildlife and interesting rock art; the Drakensberg Mountain Range has so much to offer which is why it has been declared a World Heritage Site since 2000 and has seen many a traveller, tourist and local exploring the depth and intricacy of its beauty.
If you're a little bit concerned as to the level of the trails that we have on offer, not to fear, we have trails for every level of hiker whether you've never hiked a day in your life or you are a regular, we have trails to suit people from all walks of life.
So, let's get into it shall we?
Let's first take a look at what we like to call our DAY HIKES. (These are strenuous hikes)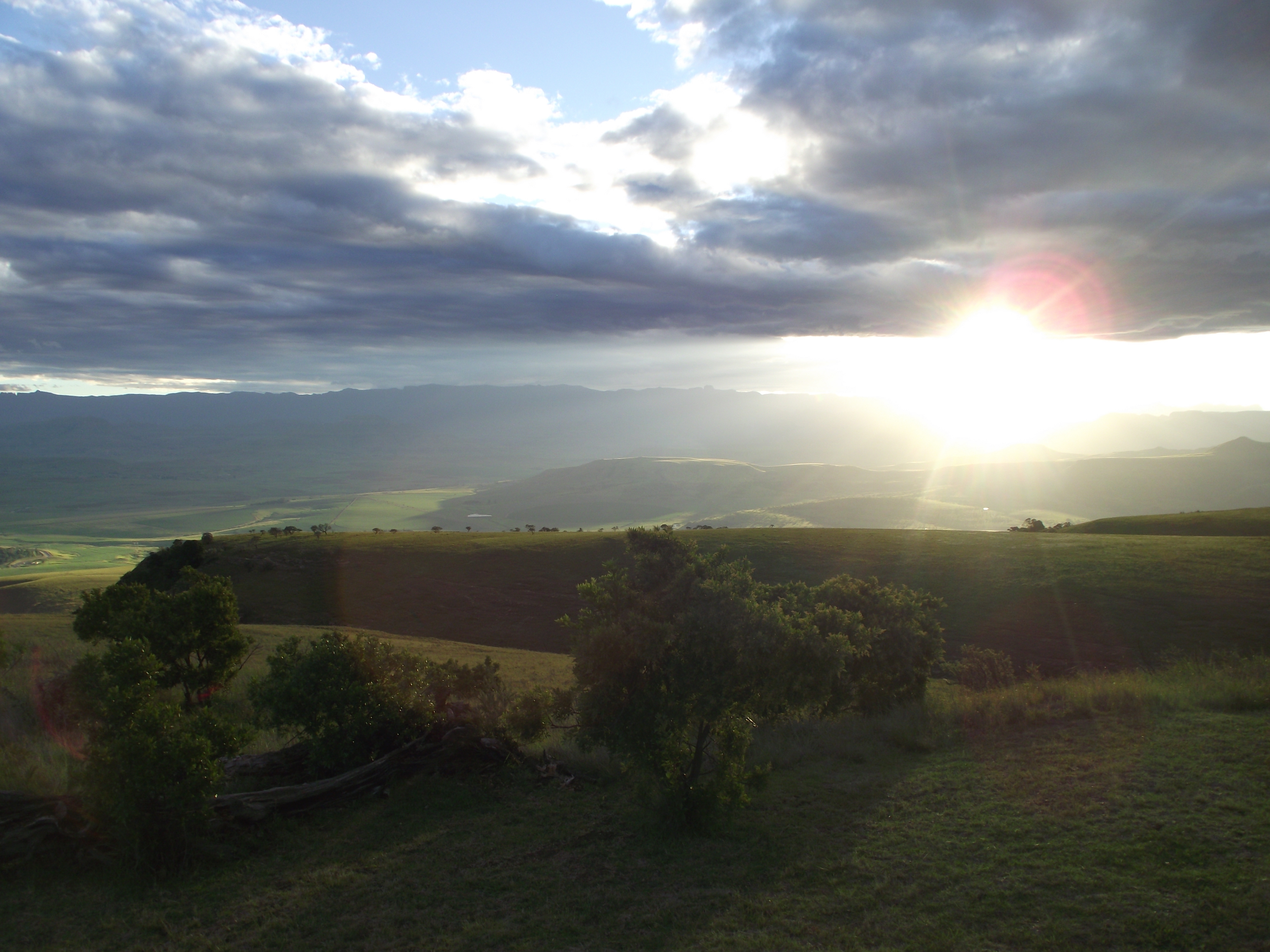 First up we have our Wingswept Trail. The Wingswept Trail is approximately 13km long and is great for those of you who are very familiar with hiking and what it entails. Starting at the Barnhouse here at Drakensberg Mountain Retreat, the Wingswept Trail offers hikers incredible views of the surrounding mountains; opportunities to encounter some close-up views of two incredible landmarks; namely, The Kerkenberg and Mpokelana Hill; soul-soothing time trekking through Oom Pieters se Bos and most importantly a glimpse of the Vergezient Falls as well as the place of the Hyena. Filled with adventure, beauty, refreshing sights and sounds, the Wingswept Trail is bound to leave you feeling rejuvenated, uplifted and in awe of the beauty that is the Drakensberg Mountain Range.
Next up, the New Beginnings Trail. This trail is a little bit longer than the Wingswept trail, totaling 13.5km long and as with the Wingswept Trail, begins and ends at the Barnhouse. Giving hikers the most spectacular experience of caves, cliff edges, the Old Opstal (an old house built over a century ago); natural splash pools – perfect for you to take a little break and replenish those muscles – Bushman art and so much more. The New Beginnings Trail is an all-time favorite and should not be missed.
The Dumbe Hiking Trail is up next and let's just say this on is not for the faint hearted. Covering 14km and 400 meters in elevation, which is part of the famous "Dumbe Trail Run," the Dumbe Hiking Trail will certainly not disappoint the single-track lover, leading hikers along breathtaking paths to unsurpassed, panoramic views of the Central and Northern Drakensberg. Experience magical forests, spectacular views – of both the Maluti and Drakensberg Mountains – the Vergezient falls; the beautiful Lost Pools and the well-known picnic rock that allows you to take a small break and just take in all that the Drakensberg has to offer whilst you rest and replenish yourself.
For those of you who are not experienced Hikers and don't consider yourselves experts, not to worry, we have what we like to call some 3-hour rambles that are not nearly as strenuous as the above-mentioned trails.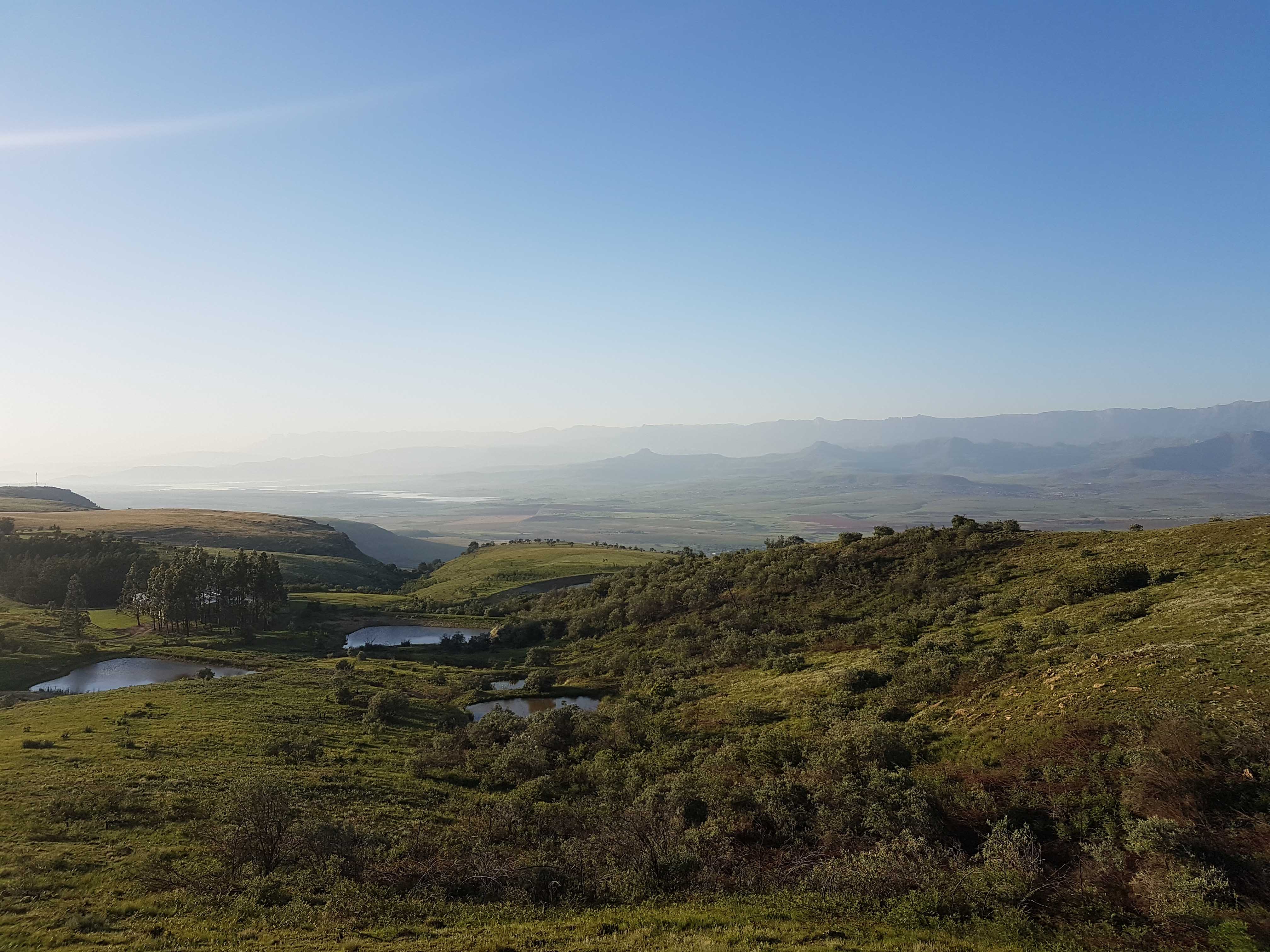 Razor's Edge (Please note that certain parts of this trail have become inaccessible so please discuss this with reception.) This trail drops down from the Barnhouse into Vergezient Kloof and offers hikers highlights and views of the Wall (a smooth cliff with a bridal fall that drops over the cliff edge into the forest below), beautiful views of KwaZulu-Natal and the chance to experience Old Trail's view – the wagon route pioneered by Piet Retief's Voortrekkers in 1838.
Dragon's Spine provides hikers with an easy walk. Hugging cliff edges, the trail repeatedly dips into a yellowwood forest before ascending gradually to Heldersig viewpoint with its stunning views in every direction.
Not too sure if 3-hour rambles are up your alley? Not to worry, for those of you who have never hiked a day in your life, our easy strolls are perfect for you.
Cliff Edge provides a bird's eye view of indigenous forests and the Berg, and is ideal for the early morning, or late afternoon. This walk is also suitable for children.
Homefields provides many rewards, especially at sunrise. It offers views deep into KwaZulu-Natal. With the seasonal splendor of the Silver Sugarbush Proteas and an abundance of bird life including Sunbirds.
Heldersig leads you to the highest point on the Dragon's Spine. At the summit you can just about see forever – which is quite an incredible sight – a stunning 360 panorama of KwaZulu-Natal and the Orange Freestate. Keep an eye out for the famous Black Eagles soaring nearby.
Now that you've got a few options are you ready to book your next trip? Get in touch with Drakensberg Mountain Retreat today and come and experience the beauty of the Drakensberg Mountains, you won't regret it.