IS HIKING IN THE DRAKENSBERG DANGEROUS?
Posted on Fri April 1, 2016.
So, the Drakensberg is renowned for its challenging hikes and endless scenic views, but are we safe whilst adventuring through the great Drakensberg Mountains? Is hiking in the Drakensberg dangerous? The experienced Drakensberg Mountain Team outline the do's and don'ts, the dangers and the myths behind hiking in these magnificent mountains, below…
The average person on the street probably considers hiking through the Moloti-Drakensberg Park over a weekend, a rather dangerous and daring hobby / excursion, and this is not an unfair assumption to make. We'll outline the facts below so that you can decide for yourself, if it's something you would like to add to your bucket list.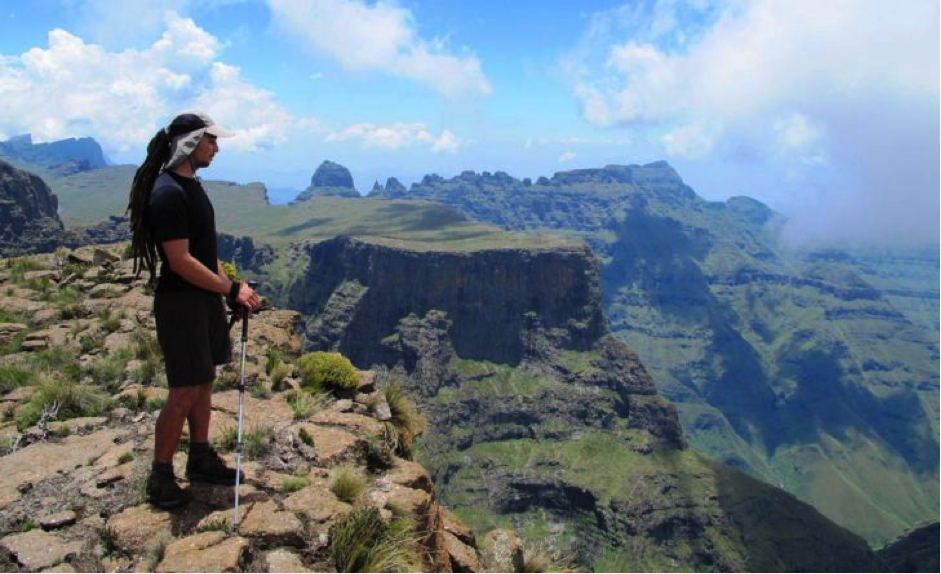 Factors contributing to possible dangers whilst hiking through the Drakensberg Mountains:
The weather
The unpredictable and quickly changing weather patterns in the Drakensberg make hiking more dangerous but having said this, mountains all over the world have a unique climate of their own due to the high altitudes. Getting stuck in the mountains during an intense storm may be dangerous, but using weather forecasts and packing the correct equipment can help prevent this or help in a volatile situation. Generally speaking the Drakensberg experiences mostly sunshine and some storms later in the day.
Rock formation
Some of the rocks in the Drakensberg are less secure than other areas but this again is something you will experience no matter where in the world one is hiking. Avoid unpleasant and unnecessary falls by purchasing the correct hiking shoes and trekking poles.
Navigation
Nobody wants to get lost or make calls for an emergency rescue team! Our fantastic weather (the sunshine mentioned earlier) makes it fairly easy for hikers to become familiar with their surroundings. The fact that the escarpment edge runs from North to South (i.e. a Handrail) makes things a lot easier too. The rivers in the valleys lead down to civilization and keep in mind also that a Westerly direction is easily recognizable by sparse, short alpine grass. If you compare this to some other mountains in the States, where civilization can only be seen after weeks of hiking, then you realize that the Drakensberg is among the safer mountains to hike! There are also plenty of topographic maps to follow and guides to take you on your hike should you wish to use them.
Cell phone coverage
Because the cell phone reception in the Drakensberg is relatively good, your hiking is made that much safer. Calling our free rescue service is done easily and if you do have an unexpected accident or emergency, the rescue team will ensure that you get to the hospital safely.
Other Considerations
While you certainly will not be encountering grizzly bears on your Drakensberg hike, you could see a troop of baboon which frequent our mountains. They keep their distance as you must do yours.
If you are concerned about snakes, then we offer solace in that, as they are shy creatures, they are rarely seen. You must however keep to the pathways and always be on the lookout. If you do come across a snake give it a wide berth and let it be. Do not try to corner it. Take a walking stick/trekking pole with you to shoo it off if this becomes necessary.
At Drakensberg Mountain Retreat our trails are well marked and cater for all abilities. We offer:
Two long day hikes which are strenuous
Two, 3 hour rambles
Three short strolls
At our Retreat, you will be walking in exhilarating fresh air amidst breathtaking views. So! If you are now ready to book your stay and your hike then contact Drakensberg Mountain Retreat today.