Dine at the Drakensberg Mountain Retreat Private Dining Room – Baloo's
Posted on Wed August 30, 2017.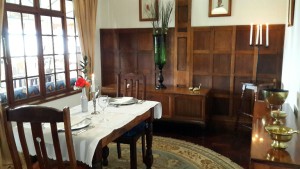 If you wish to celebrate a special occasion or simply feel like a romantic, private dinner alone with your loved one, we have an intimate dining room available – Baloo's Dining Room. Whilst dining here, the only other person who may enter the room is your waiter. So if it is peace and quiet you're after then this is the answer.
So, why the name "Baloo" you ask? The late owner of the Drakensberg Mountain Retreat, Dave George, owned a precious Staffordshire Bull Terrier named "Baloo" and because she became an integral part of DMR, our exclusive private dining room was later named after her.
Baloo's story began a few years ago when Mr George's mum heard of a Staffie in Harrismith needing a home.  Once Mr George has picked Baloo up, they became inseparable and developed a unique bond. Whether Dave was at The Barnhouse, The Lodge, or strolling through the rolling hills on the hikes at the DMR, Baloo was never too far away!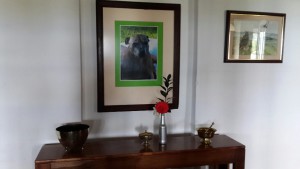 During Dave's terminal illness Baloo kept a constant vigil by his side. She was a faithful, friendly and loving little dog whose memory will live on at the Drakensberg Mountain Retreat forever!
Guests that are interested in making a private dinner booking at "Baloo's" may do so on arrival or before, at no extra charge (first come first serve basis).