WANT TO POP THE QUESTION SURROUNDED BY MAJESTIC PEAKS?
Posted on Tue September 5, 2017.
Nowadays one can't log onto Facebook or check their Instagram feed without being bombarded with engagement pics and the infamous "hand with ring photograph"! This places a lot of pressure on the guys in particular, as they need to find a way to propose that is special for them as a couple and unique enough to impress their lady (and her social media audience) too!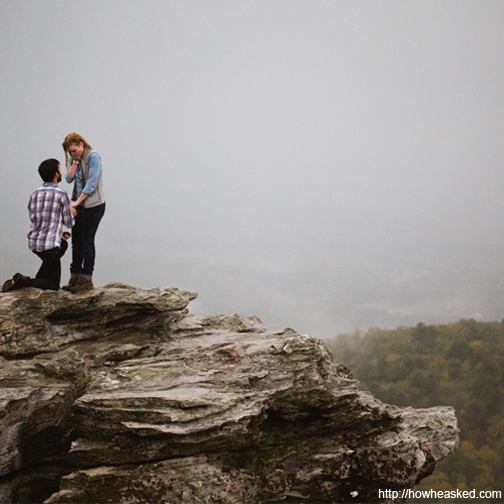 If your girlfriend (soon to be fiancé) loves the outdoors and you as a couple enjoy hiking and weekend getaways in the Berg, then a mountain proposal might just be the route to take! We outline a few ideas and tips for your big moment here…
Scenery
You'll need to pick the perfect spot! You can't drive all the way to the Drakensberg Mountains for this dramatic moment and not have the right place to pop the question (especially if you choose to hire a photographer to capture this once in a lifetime moment for you – which we by the way, we suggest you do!). The Drakensberg Mountain Retreat team are hopeless romantics and would be only too glad to help you choose the best location and even help with a romantic picnic should you wish to enjoy a meal and a celebratory glass of champagne in the mountains after.
Drama, drama, drama!
Is your girlfriend the kind that likes anything super dramatic and over the top? Do you fear that simply being surrounded by picturesque scenery won't be enough for her? Well, why don't you write it in the sky then? Make the gesture even grander by hiring a plane with a banner that spells out the four-word sentence for you! She won't be able to say no to something that bold!
General tips for all proposals:
Hire a photographer to capture this once in a lifetime experience.
Prepare for the "speech" or words you wish to say before you POP THE QUESTION but try not to make it sound to rehearsed, you just want to make sure you cover what's on your mind and say what's important for you as a couple.
Make it personal to you as a couple, include something unique to you and her. Perhaps a photograph or a quote, something special that only you and her understand.
Disguised Proposal
Keep her scent off the trail! Disguise your proposal behind another occasion by making the weekend about something else such as an anniversary, birthday, Valentine's Day or just a stress free weekend away needed by both of you. Take a trip to the Drakensberg and surprise your lady with a proposal! There are so many benefits to surprising her in this way – for one; you will both be away together to cherish this amazing experience and toast to your future whilst being away from the city. Secondly, her emotions will be that much greater if she has no idea its about to happen. And thirdly, you'll score major brownie points for surprising her and keeping such a big secret – she will feel really special!
Planning
These might seem pretty obvious but when planning something as monumental as a proposal, it's easy to forget the basics. You'll need to tick the following list;
Ideally the ring needs to be ready in time for the weekend you've booked.
Make sure she knows where you're heading or if you choose to keep the whole thing a surprise, get a friend or family member to help you pack her bag so she has the correct attire for your Drakensberg weekend away.
Either have a map and route planned out before hand or ask one of our guides to help you choose the perfect spot on the hike trails.
Snacks will need to be something you think about too. Do you want to pack a picnic basket/champagne/snacks for along the way?
So…with a little help from us at Drakensberg Mountain Retreat you might just be able to top the last proposal your girlfriend saw on Facebook.
Book an unforgettable stay with us and pop the question surrounded by majestic peaks!